Qantas Airways is being slammed for allegedly stealing the spirit of Christmas, after a leaked memo from the carrier asking staffers to consider working "voluntary and unpaid" shifts through the holiday season hit the Internet.
News of the airline's "Christmas peak Sydney International Terminal volunteer initiative" made waves online Friday, BuzzFeed News reports, and its audacious premise has left many seing red.
"To support our airport teams at [Sydney International Terminal] over the 2018 peak Christmas travel period, we're trialing a new volunteer program for our Campus-based people who'd like to lend a hand to the frontline in December and January," the notice states, as per The Sydney Morning Herald.
"We require volunteers to assist at the self-service check-ins and auto bag drop area, bussing gates, concourse arrivals hall and at the transfer desk. The roles allocated to volunteers will depend on their preferences, skillset and security requirements."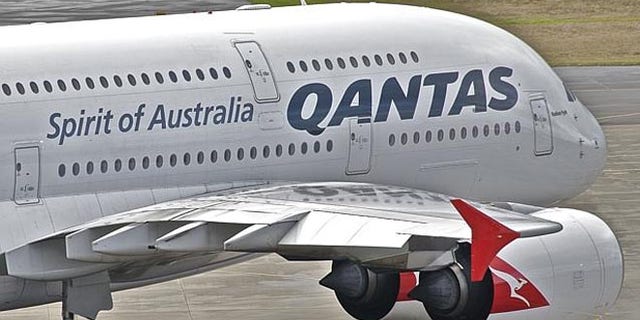 JOURNALIST CLAIMS 'WOMEN-ONLY' PLANE SECTIONS COULD COMBAT MIDAIR ASSAULT
According to the outlet, interested Qantas staffers can agree to work four-hour shifts, which they will only be compensated for if those shifts "fall within their normal rostered working hours."
Though reps for Qantas did not immediately return Fox News' request for comment, a rep for the airline told the Herald that volunteers would be responsible for tasks including distributing water bottles and chocolates to travelers, as well as offering directions through the air hub.
The spokesman further declared that the initiative "is not about cutting costs, this is about spreading a bit of Christmas cheer during a really busy period".
"We always scale up with additional paid staff over the peak holiday period. And we also ask head office employees if they'd like to lend a hand, which is a mix of their own time and company time," he said. "It's typically our executives who volunteer, particularly because it's a chance for them to spend more time on the frontline."
Nevertheless, the pitch has rubbed many members of the public the wrong way.
Australian Services Union NSW branch secretary Natalie Lang described the move as a "classic Grinch tale".
"This is the period where it is so busy that Qantas actually jacks up its prices and price gouges people travelling to see loved ones … but yet they expect those people supporting those extra travelers to work for free," she said.
FOLLOW US ON FACEBOOK FOR MORE FOX LIFESTYLE NEWS
Twitter users, too, were similarly outraged.
"This Christmas @Qantas is asking workers to volunteer to work for free. It's a shocking display of corporate greed from a company with record profit that paid its CEO $25 million last year. #changetherules," one fumed.
"As a long standing @Qantas customer and #brand advocate I am incensed that any executive could assess peak customer demand as a volunteerism opportunity rather than paid overtime for appropriately qualified staff," one chimed in.
"This is ridiculous, and @Qantas should be ashamed," one said.
As per their most recent annual report, Qantas Group reported a record profit of $1.6 billion for the 2017-18 financial year.
Ho, ho, humbug!
From Fox News.